Multi-Award Winning Whole Of Market Mortgage & Protection Advice In Nottingham.
Mortgage Broker Nottingham
We bring harmony and balance to your financial matters, giving you peace of mind. Whether you're a first-time buyer, moving home or want to remortgage to a better deal, we aim to make it happen without jargon.
We are all about offering transparent, impartial advice that gets the job done. we know that buying a home can be challenging and we're here to help you along the way making it as stress-free as possible.
How Can We Help You Get A Mortgage
As 5* and award-winning mortgage advisors in Nottingham, Harmony FS has in-depth knowledge of the local markets and local areas. So if you are looking for a local mortgage advisor, we can help you.
5* Mortgage Broker Nottingham
We know how difficult it can be to get a mortgage in Nottingham – especially with the difficult financial year we've all had. But with us as your mortgage broker, Nottingham, we can help you find the best mortgage deals or insurance no matter what. Contact us to get your mortgage today.
Our Nottingham Mortgage Advisors
With a base in Nottingham and a key presence throughout the UK, Harmony FS is on hand to help whenever you're buying. Nottingham mortgage brokers have access to the whole of the market, meaning that whatever your background and your financial affairs, we can help you find the best mortgage or insurance for you. So if you are looking for the best independent mortgage advisor near me, you will find Harmony Financial Services.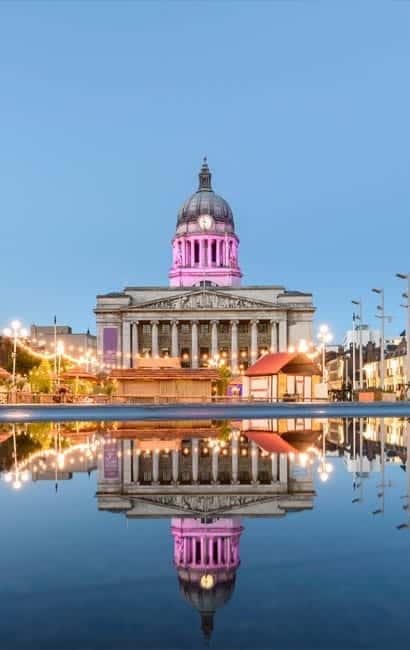 Taking the hassle out of mortgages the Harmony way!
Harmony Financial Services can help you to get a mortgage in Nottingham in simple steps.
Our Services
Where other financial firms may have failed, Harmony FS will help you to find the right mortgage. We'll always be in touch to let you know how your application is going, what we're doing to support your application, and offer friendly advice to get you the best mortgage deal, Nottingham.
Find out the answers to the most frequently asked questions about mortgages in Nottingham.
Harmony FS has helped thousands of people move into their dream home and arranged millions of pounds of mortgage lending in and around Nottingham. We have helped to secure mortgages for doctors, seafarer mortgages, self-employed, buy to let mortgages, and more. Here is what some of our clients say about Harmony FS mortgage brokers in Nottingham:
Arrange your mortgage in perfect harmony with clear, no-nonsense advice from the whole mortgage market.
Fill in the short form below and one of our specialist Nottingham mortgage advisors will get in touch to discuss your requirements and your perfect mortgage. We can't wait to hear from you.
Even if you're a few months or even a year away from looking to buy a home, we're happy to advise you. We're here to help support you as early as possible in your home-buying journey.